Turbo Power Systems are Appointed Project Partner in EU-Funded Project, ebalance-plusTurbo Power Systems are Appointed Project Partner in EU-Funded Project, ebalance-plus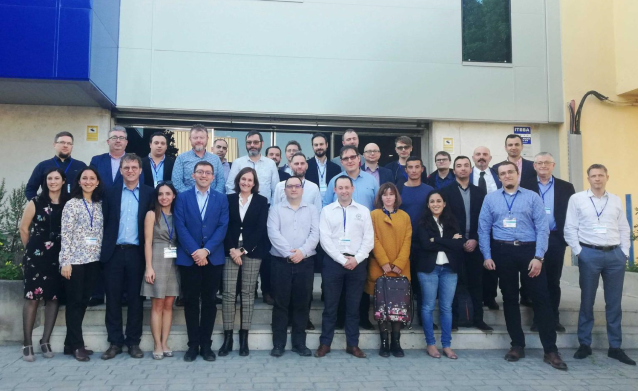 Specialist power electronics design and manufacturer, Turbo Power Systems Ltd (TPS) are delighted to bring their expertise to another ground-breaking EU-funded project – ebalance-plus – which tackles technical, economic and social aspects of smart grids, aiming to increase their flexibility and resilience.
TPS are well experienced in collaboratively working to achieve a shared objective having already been involved in several large consortium led projects, both EU and UK-funded. The consortium is made up of 15 partner companies representing 10 countries within Europe who will all work together to increase flexibility of energy grids, test new business models and support key stakeholders with tailored end user interfaces. They will demonstrate a variety of solutions in four real pilot sites in Spain, Italy, France and Denmark. To ensure the adequacy of the solutions, additional in-lab tests will tackle security and safety issues. The European Union supports the project within the Horizon 2020 framework with almost 10 million Euro for 42 months.
With a substantial grant from the consortium, TPS will lead the development of key systems within the project and will work together with specialist system integrators and other partners involved in the demonstration. Their scope of supply includes:
Dual Terminal Power Electronic Device (PED) to manage grid connection and create a controlled DC network;
DC-DC converters to connect solar photovoltaic (PV) renewable power to the DC bus;
High efficiency bi-directional DC-DC converters for 10 Electric Vehicle (EV) chargers with vehicle-to-grid (V2G) functionality.
In 2013, a smaller scale project – "ebalance" – was launched to demonstrate the benefits of having flexibility at low voltage electric grid level through the application of intelligent management of solar energy and household smart appliances. Ebalance-plus is an evolution of the ebalance project and is aimed at giving the network operators more flexibility in how they can manage energy whilst simultaneously maintaining resilience in the supply. For the consumer, this translates to assurance of energy supply, minimising consumer energy costs whilst also enabling wider adoption of low carbon technologies such as Electric Vehicles.
We've been developing innovative power electronic solutions for over 45 years for a variety of very challenging and complex applications. We've really been working hard to come up with new and novel ideas for the decarbonisation of energy and have been a vital member of many consortium-led projects in recent years, so when we had the opportunity to be a part of the ebalance-plus project we knew we had unique expertise that we could bring to the table." comments Nigel Jakeman, Engineering & Business Development Director at TPS, "We've got 18 months to develop and deliver our converters, which will form a core part of the ebalance-plus system, ahead of a unique demonstration taking place in Málaga, Spain and I am confident that despite the short delivery time our team will develop an innovative and efficient solution.
Decarbonising energy has never been more important and as we move forward into the era of electric vehicles, it is vital that the charging infrastructure is in place to facilitate unprecedented numbers of consumers charging EV's at the same time. Currently, research shows that there is not enough capacity to rapidly charge multiple vehicles at once, so energy companies and manufacturers are forced to think smarter about how and where electricity is produced. Traditionally, electricity was generated predominantly from fossil power plants in non-urban locations and was mostly consumed in urban environments. However, today and in the future, electricity will be produced more and more from urban located renewable sources, which are characterised by variability. Electricity grids must be much more flexible than before to match the more uncertain generation with the more uncertain demand, especially once electricity consumers start purchasing their availability to consume electrical power and, in some cases, become small producers.
Find out how we can help
Speak to one of our experts about your specialist project requirements
Get in touch